This article explains the purpose and functionality of the Friends and Family Test feature of Mjog.
The NHS Friends and Family Test (FFT) was created to help service providers and commissioners understand whether patients are happy with the service provided, or where improvements are needed. It's a quick and anonymous way for patients to give their views after receiving NHS care or treatment.
Mjog provides an automated service that allows you to text patients a copy of the FFT questionnaire after they have attended their appointment. The intended benefit of automatically texting patients the Friends and Family Questionnaire, is that you are guaranteed to reach 100% of your patients to gather their feedback; texting patients is a more direct approach to receiving feedback (as opposed to them filling in cards or using touch screens in your surgery's reception).
The questionnaire that is sent to patients asks all of the pertinent questions required by the CQC, and is presented as a simple to follow message template on the patients' Smart phones: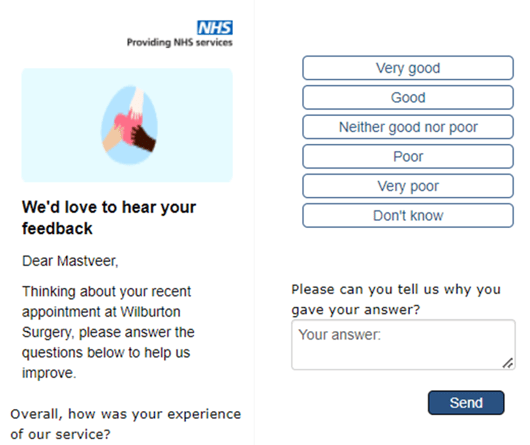 When patients submit their responses, they are stored in Mjog so that you can analyse them and export them for submission to the CQC.
The following articles will enable you to to set up and configure the Friends and Family Test in Mjog:
Downloading the FFT template
Modifying the FFT template
Enabling automatic sending of the FFT
Accessing the FFT results