This article explains how to view and export Friends and Family Results.
When patients have submitted reviews for a Friends and Family text, they are stored in Mjog so that they can be viewed and exported ready for submission to the CQC.
On this page:
---
Viewing Friends and Family results
From the Home Page of Mjog, click Friends and family: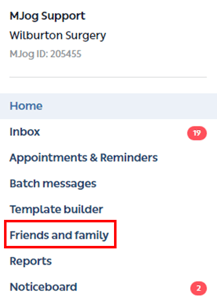 The Friends and Family Results page provides a graphical breakdown of the reviews submitted by patients: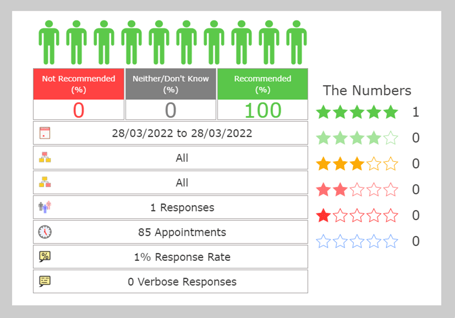 ---
Filtering Friends and Family results
FFT results can be viewed in Mjog by: site, clinic / session, and month:

To filter the Friends and Family results, select the option that you require i.e., Month, and then click Update:

---
Exporting Friends and Family results
Results can be downloaded to a CSV file, which is suitable for submission to NHS England.
Click Export Submission CSV:

Your Friends and Family results will be opened in Microsoft Excel as a CSV file. If you have filtered your results by a particular month, only those results will be exported: