Downloading the FFT template
This article explains how to download the up-to-date template for the Friends and Family Test.
Mjog supplies a message template with the approved NHS wording and responses that allows your patients to submit their feedback. The following instructions explain how to download the latest message template.
From the Home Page of Mjog, click Template Builder: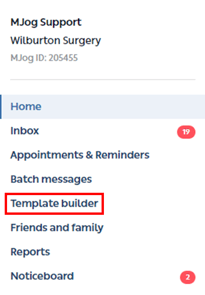 Click Download Templates:

Click the Appointments category:

Click Download Templates next to the Friends and Family template:

You have now downloaded the most recent template for the FFT.