This article explains how to enable Friends and Family texts to be automatically sent.
In order for your Friends and Family texts to be automatically sent to patients following their appointments, you will need to enable it in the Mjog settings.
From the Home Page of Mjog, click Settings: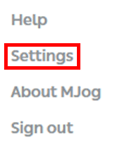 Select the Friends and Family tab: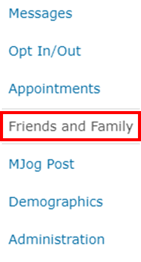 Click Change Friends and Family Test settings:

Select the Enable option for Send Friends and Family Test Messages for Appointments:


Once you switch on FFT, Mjog will start sending out FFT messages to your patients approximately two hours following their appointment. Please note that Mjog will 'soft start' these messages by only sending to new appointments Mjog sees after switching this on. After a period of about a week, all patients that can be contacted will receive an FFT message following their appointment.
To avoid over contacting patients, Mjog will only send one FFT message per patient in a 30 day period.
All responses are recorded anonymously in the Mjog FFT results module.