This article covers how to manage the settings of Mjog.
When Mjog is first deployed for your surgery, a member of Mjog's Implementation and Deployment team conducts a training and configuration session with your Practice Manager to ensure that Mjog is configured correctly to send appointment reminders for the appropriate clinics and appointment slot types for your practice.
Once live, the Mjog settings are managed by the Mjog Administrators; individuals within your practice that have the permissions to change the way how Mjog works.
If you are an Administrator of Mjog, the settings can be accessed from the Home Page of Mjog.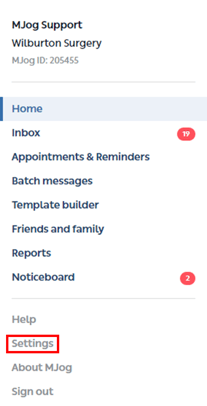 From this page you can set or alter the Mjog system configuration. You can alter the wording of outgoing messages to patients, now message templates, change how far in advance of their appointment a reminder is sent, along with many other options.
The settings are broken down into logical sections:
Messages
Opt In/Out Settings
Appointments
Demographics
Administration
The options on this page will depend on the access level of the Mjog user account you have logged in with. If one of the described options is not shown, this means it is not available at your current access level; you should contact the person within your organisation who looks after Mjog (frequently referred to as the Mjog Administrator) for assistance.
As an Administrator of Mjog, the most important settings to maintain are the following:

Change my message templates
Change when my messages are sent
Change the clinic opt in/out preferences
Change my appointment type settings
Manage Mjog users