This article explains how to create a username and password for Mjog.
---
Each member of staff who is going to use Mjog should have their own user account so that you have full auditing of all messages that have been sent and any changes that have been made.
On this page:
---
Creating an Mjog User Account
From the Mjog Home Page, click Settings.
Select the Administration tab.
Click Manage Mjog Users.
Click Add a new user.
Complete the user details as below.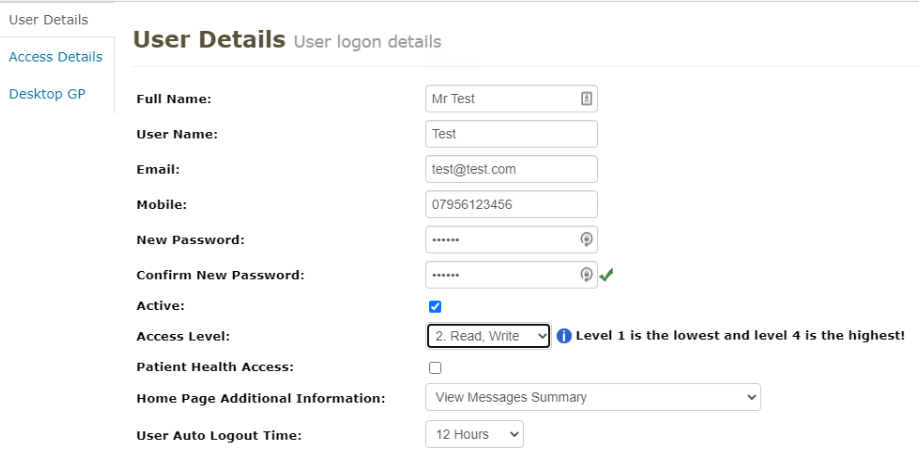 The table below describes the purpose of each of the settings.
| | |
| --- | --- |
| Setting | Description |
| Full Name | Enter the full name of the new user. |
| User Name | This is the login name for the new account. You cannot use spaces or punctuation in an Mjog user name. |
| Email | This will be your work email address |
| Mobile (Optional) | This is used for sending test messages, and is also required if you are creating a user for Desktop GP. |
| Password | This will be the password for the new user account. It is case sensitive. |
| Active | If checked, the account can be used to access Mjog. If unchecked, the account is not currently in use. This may be useful for staff that are on long term leave or if you need to temporarily suspend a user from accessing Mjog. |
| Access Level | You can set the level of access that is granted to this account. You have the choice of four levels, ranging from minimal access to full administrator access. |
---
Access Levels
The table below explains the purpose of each of the Access Levels
Access Level
Grants Access To
Read Only

VIEW the appointment reminders.
VIEW the status and communication reports.
NO ACCESS to settings and configuration options.
Show Comms History (messages sent and received from patients).

Read, Write

All "Read Only" Access above, plus:
Send a Now / Quick Message / Desktop GP message to a Patient or Patients.
Opt Out a patient.

Full

All of the above and send a Batch message.

Administrator

Full access to all features and configuration settings.
It is recommended to have at least two Administrators, i.e. to cover for holidays, etc.
Click Save Settings.
Click Back to previous page to add another user.
---
Video Guide