Steps for setting up a new SystmOne Unit
Steps
Request a new National ODS code from NHS Digital using the name format - [Partner Name] LIVI S1 Hub
Request a a list of GP Practices who will be members of the Federated Working organisation group (Shared Admin). This will also be needed for new S1 Hub Unit form.
When the new National OD Code has been provided by NHSD complete a new SystmOne Unit Request form. Use the LIVI Parent Code - DYX and new LIVI ODS code




Request that the generic LIVI admin account - liviadmin - is created on new unit.
Submit form to TPP.
Ask the NHS Partner to create a new Prescribing Cost Centre Code and Spurious code that sits under their CCG.
Request from NEL CSU to create Smartcard Profiles against new LIVI ODS code and make LIVI an RA Sponsor to enable profiles to be assigned to User Smartcards.
When SystmOne Unit is Live navigate to Organisation Peferences > Prescribing Printing and in the EPS Cost Centre Code Override enter the Y Code provided by the NHS Partner:



GP Practices will need to Accept the request to join the Shared Admin Group - this appears as a Task in their SystmOne.
Ask GP Practices to set up Task Groups 'Tasks from LIVI'
Set up Remote Pull Access. Remote Pull Access enables LIVI admins to book the Sharing Practuices patients into an appointment slot.
Complete other SystmOne Configuration such as Rota's, Users etc...
Shared Admin is required to access the Patients Full Record and send Tasks back to the GP Practice.
TPP Documents
Confirmation to turn on SystmOne Sharing
---
Confirm which contract this should go under. If there isn't a contract in place, please provide the below details:
Authority's name:
Authority's address:
Authority main contact name:
Authority main phone number:
Authority main email address:
SystmOne Configuration (Detail)
Enhanced Data Sharing Model (eDSM)
The Enhanced Data Sharing Model (eDSM) within SystmOne gives your organisation and your patients complete control of the health and care information you hold, allowing you to request and record the patient's preferences for sharing their data into and/or out of each SystmOne organisation where they are cared for.
If the patient consents to share data into this organisation, you will be able to view information entered by any SystmOne service that has recorded the patient's consent to share out. If the patient dissents to sharing in, you will not be able to view any of the information entered by other organisations.
If the patient chooses to consent to sharing out, the information entered at your organisation will be visible at all other organisations the patient is currently cared for now and in the future, where consent to share in has been requested and agreed to.
Until you choose to enable eDSM at your organisation, you will not be able to view information entered by another SystmOne organisation, and data you have entered will not be visible to other organisations caring for the patient. You will also not be able to receive electronic referrals whilst the eDSM is disabled. This is to allow you time to ensure that your organisation's information governance policies are appropriate for SystmOne as a shared-record system, before any record sharing takes place. This includes informing your patients of who may have access to their data, what data they may be able to access, and the options available to them. Guidance around fulfilling your role as a data controller is fully detailed in the Code of Conduct provided with this document.
Once you have enabled eDSM, you will not be able to turn it off; however, you can control record sharing by recording the patients' sharing preferences on an individual and organisation basis. Please see the 'Using the enhanced Data Sharing Model' training guide for a full description of eDSM and the controls, alerts and audits available.
In order to turn this on prior to go live, please can the Caldicott Guardian fill out the below box and return to deployments@tpp-uk.com
Smartcard Accounts
Shared Admin
Enable EPS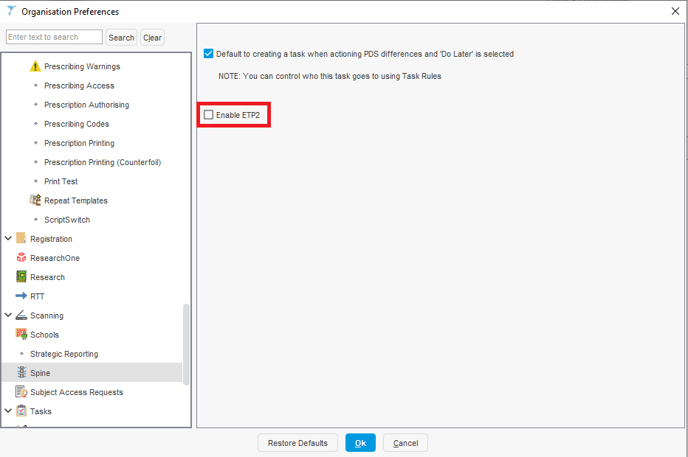 Prescribing
The hub can be used to prescribe via ETP or using printed FP10 scripts.
If your organisation has a prescribing budget allocated by the CCG, the hub unit can use a spurious code in place of a PPA ID for all prescriptions. Use the Organisation Preference Prescribing > Prescription Printing >Override PPA ID of the authoriser to set a spurious code for prescriptions from the hub unit. This will allow for prescriptions from the hub to be claimed from the hub's prescribing budget.

EAP organisations that do not have their own prescribing budget may wish to claim the cost of prescriptions from the patient's usual practice. TPP is currently developing this work. Once we've got the assurance from NHS Digital, prescriber would be able to use the patient's usual GP's PPA ID instead.