How to set up Pathology Links in Emis Web
Add Egton VPN HSCN Facing IP address to NHS Partner Firewall
The NHS Partner hosting the Pathology OrderComms server (i.e. ICE) must enable traffic from 195.104.31.1 and 195.104.34.1 through their Firewall.
If connection above does not work follow this guide
Request a new MESH Mailbox for Pathology Service
Complete the Request for a new MESH mailbox here. In the form use;
Mailbox Type - MESH Client
Workflow ID - Pathology PATH_HL7 Pathology Result from Trust Lab to GP Practice
---
Request EDI code from NHS Digital
Complete this form and email to DNSTeam@nhs.net
Sample Response from DNS Team will be;
We have allocated your EDI Code as follows:
Org Code: [Y CODE]
Organisation: [Emis Org Name]
EDI : 1100012345
ORG Free Part Number for Pathology: 00004
NHS EDI Scheme ID: 80
---
Request MESH and EDI details from NHS Partner Pathology department
This information will be required for the QF976 form below.
---
Enable Pathology Links in EMIS
Complete QF976 form with all the relevant details in the Organisation Details section and then complete the details in the Pathology Links Information section and send back to EMIS (sample below)
Add Trading Partner and Organisation EDI details to EMIS Workflow Configuration
EMIS Bubble > Workflow > Workflow Manager - Config - Trading Partners
see sample below
Add the Org Free Part Number (0005) to the end of the EDI number (1100007895) making the organisation cipher in messages: 110000789500005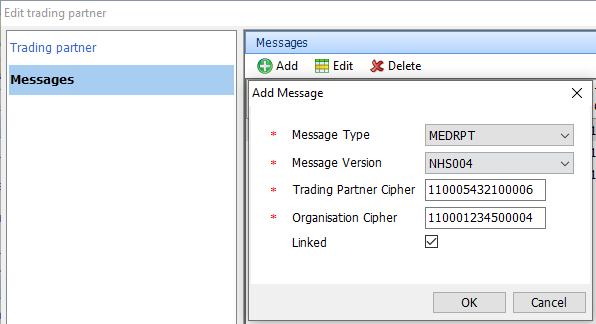 ---
Activate Anglia Test Requests in EMAS Manager and add Provider Details
EMIS Bubble > System Tools > EMAS Manager - Test Requests - Activate Anglia Test Requests
Add Provider Details - sample:
---
NHS Partner to set up Connection to EMIS
There may be further Interop connection needs to be setup between CliniSys and Emis (which is with CliniSys)
---
Provide GP info to NHS Partner
NHS Partner will need to create users on their Pathology System (ICE/TQuest) - some emay provide a form like below:
Most Clinical Laboratories will only require the GPs GMC Number
---
Configure User Accounts
Once the account shave been created by Exeter Clinical Laboratory LIVI will need account credentials from NHS Partner in EMIS (Org ID - 139798)
EMIS Bubble > System Tools > EMAS Manager - select Test Requests - Anglia Test Requests
Select the User account and enter the password provided from Exeter Labs for both Username and Password (they usually use the GPs GMC number for both Username and Password):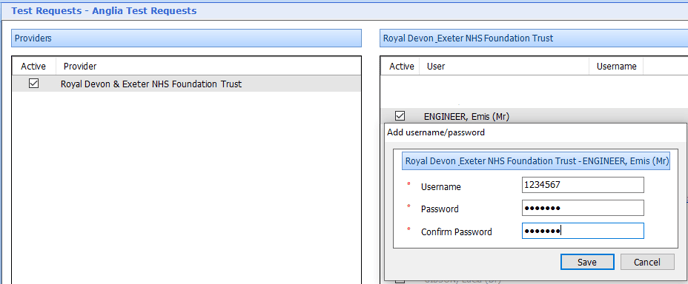 Click on Save.