This article explains how to start a video consultation using Desktop GP.
You can send links for video consultations to patients using Desktop GP.
With the video consultations service, you can now use your Desktop GP software to start video consultations in a few clicks.
Currently Desktop GP supports the following services, if you are receiving funding to use a particular service from this list, please be sure to select that provider:
Mjog Video – Using this service removes the need to setup any user accounts in other video services and is the simplest method to get started.
Skype - With Skype, by default Mjog will pre-configure guest Skype accounts for all Mjog users.
Whereby, Zoho and Zoom - With Whereby, Zoho and Zoom, you will need to take note of your meeting/room ID and PIN codes. They will be needed when setting up your Mjog users for video consultation invitations.
On this page:
---
Sending a Video Consultation invite
Navigate to the Patient Record within your Patient Appointment System, i.e. EMIS Web / SystmOne.
Click on the Quick Video icon: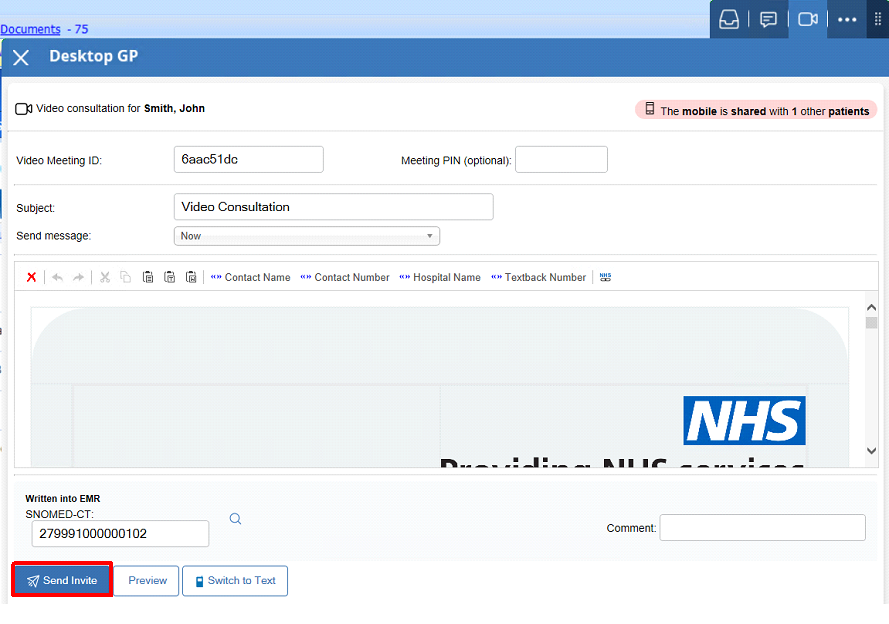 The patient will receive a text with the joining instructions for the video consultation.
Sending a Video Consultation invite to an alternative mobile number
For privacy reasons, a patient may request that you send an invite to an alternative number.

Click Send to a different number, and then enter a mobile number:

---
Start Consultation
If you have a Webcam and supported audio device, click Start Consultation:

If you do not have a webcam / microphone connected to your PC, a text will be sent to your mobile.
To be able to receive this message, your mobile number must be included in your user account. Please click here for instructions.
Press URL provided in the text, and the you will be admitted to the "Virtual Waiting Room".
A text will be sent to the patient, which includes a link to join the Video Consultation. When the patient presses the link on their mobile, they will receive a short "countdown" timer and then will then join the video consultation.
---
Completing a Video Consultation

You will be prompted to enter a read code / SNOMED code and enter a description for a consultation. Alternatively, you may click Mark Complete and do the same.


When you mark a Video Consultation as Complete / Incomplete, you will be provided with the option of sending a Follow Up Message (optional).