How to audit tasks in Emis and SystmOne
EMIS
Audit Tasks
To Audit Workflow Tasks select Audit Tools > System Audit. Select Event Type and check Filter by Event Type - select Workflow Task. Select Action, check Filter by Mode and select Add and Complete. You can also choose to filter by a date range: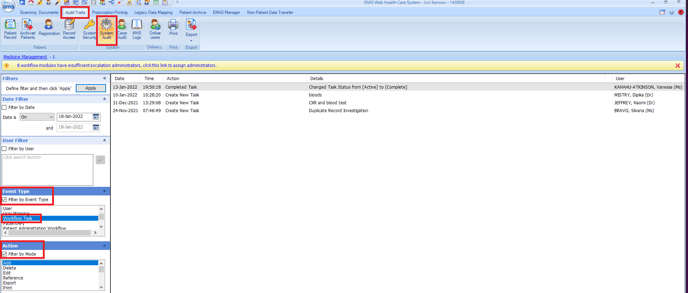 Click on Apply
RBAC B0011 is required to access the Audit Trail module.
To add to a User Profile select Organisation Configuration > Users - search for the users account - select User Role Profiles, in Additional RBAC Activities search for Analyse Audit Trails - RBAC B0011, double click to select, click OK and OK again - restart Emis.
For Smartcard Roles ask the RA/Sponsor to add the RBAC Activity to their Role.
Global Viewer
To view All Tasks a user can make themselves a Global Viewer. In Workflow Manager select Config > Global Viewers. Highlight Tasks and click on Add. Select User and in the Inbox View select Global: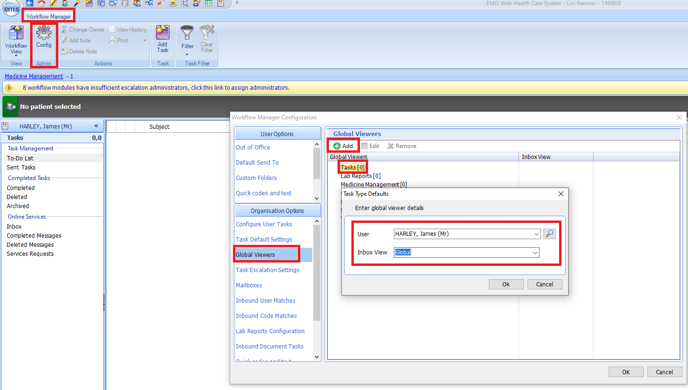 To view Global Tasks in Workflow Manager the user selects the arrow under Workflow Manager and selects Global Tasks: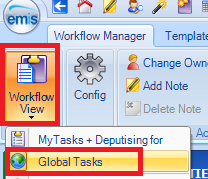 Configure out of office settings and deputies (e.g to view other Users Tasks)
This can be completed on behalf of the User in Organisation Configuration > Users (open user) > Out of Office Settings
Access the Workflow Manager Configuration screen.

Click , point to Workflow, select Workflow Manager, and then click Config on the ribbon.

The Workflow Manager Configuration screen is displayed.

In the User Options section of the left-hand pane, click Out of Office Settings.

In the Out of Office Settings section:

Select I am currently in the office, I am currently out of the office, and will return on, or I am currently out of the office, and do not know when I will return.


You are prompted to add a return date when selecting I am currently out of the office, and will return on.


If required, select Enable my deputies when I am in the office.

If you select this option, you also need to agree specific local procedures, to make sure that your deputies do not try to deal with tasks or aspects of tasks that you are responsible for and are already dealing with.

Deputies are automatically enabled when you are out of the office.

In the Manage Deputies section:

Click Add, and then select the user(s) who will act as your deputy.
Each selected user is displayed in the Deputy pane.
In the Deputy pane, select the required user.
In the Module Permissions pane, select the Workflow Manager module(s) for which the selected user will act as your deputy (e.g. Registration).

Click OK to apply the out of office and deputy settings.
SystmOne
Task Reporting
From the Main Menu select Reporting > Miscellaneous Reports > Task Report: