If, after saving a Consultation, the clinician gets an Error under Status (click on the Error icon to see message):



It could be the patient has the incorrect Patient Type and/or GP Links Registration Status at their GP Practice.
The patient must have a Patient Type of Regular in the GP Practice.
At the patients GP Practice, open the patient, go to Registration and select Change Patient Type and select Regular: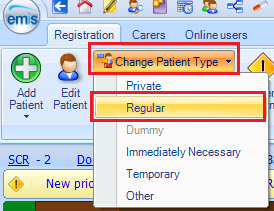 For Consultation Write Back, view Shared Record and send a Patient Cross Org Task all to function a Patient not only needs to be registered as a Regular patient but also have one of the following GP Links Registration status in Registration.
Notification of registration
Medical record sent by FHSA
Record Received
Left Practice. Still Registered
Newly registered or transferred patients will have a Registration Status of Application Form FP1 submitted - Organisation A has submitted a registration form to the Trading Partner - and is awaiting action in Workflow Manager. More info here in EmisNow
View the current Registration Status of the patient by opening the patient and going to Patient Registration. Click on the Status History Tab:

If the Registration Status is not one of the above then Consultation Write Back will not work. To Manually change the Status of the patients Registration go to Workflow Manager and select Registrations.
To access Registration Workflow you must have B1680 Manage Demographic Duplicate Records in your RBAC role profile.
On the ribbon, click Actions and from the drop down menu select Manual Status Modification: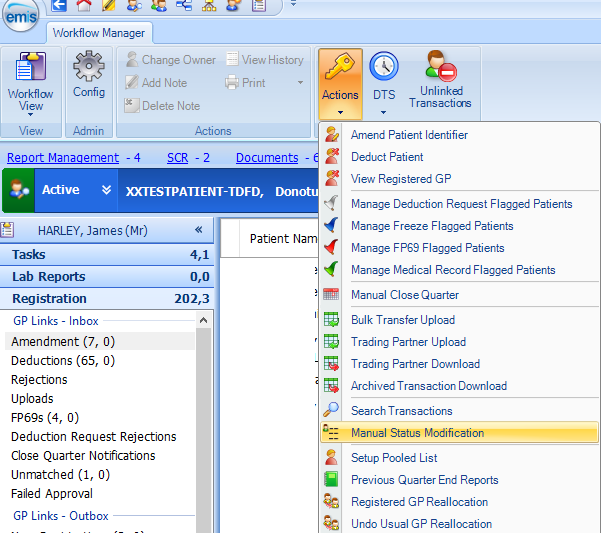 Select the required patient, and then click OK.

A Manual Status Modification warning message is displayed.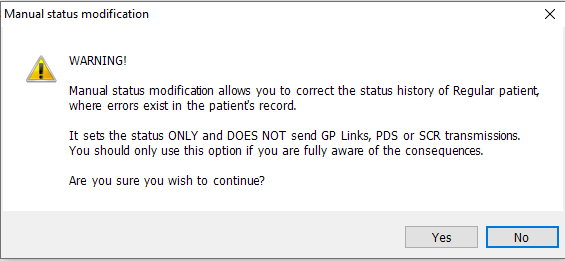 Select Yes
Click Add Status

and then select the required new status from the list displayed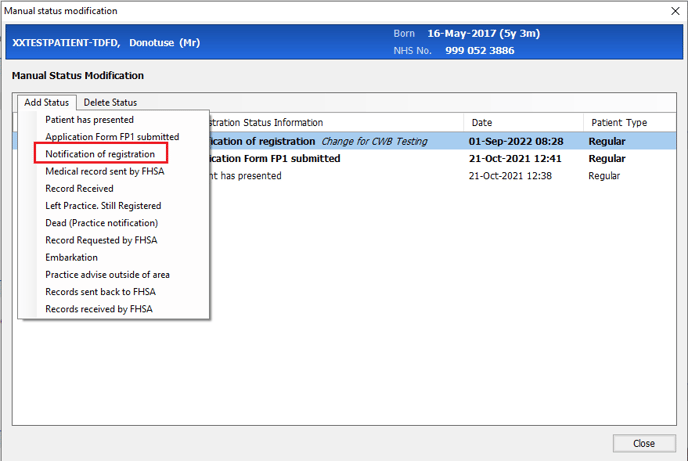 Select one of the required status listed at the top of this article

GP Links Registration Status EMIS Report
Ask the GP Practice to download this report
upload to EMIS and run to identify patients with the incorrect GP Links Registration Status: