This article explains how to correctly format CSV files exported from your clinical system for use in Batch Messages
Once you have run a search within your clinical syste, it needs to be exported to Excel (as a CSV file). Some clinical systems automatically put the data in the correct format, however, in some instances you may need to edit the file before it will work with Mjog.
All MJog requires is the Patient ID number if you use EMIS, or the NHS Number if you use SystmOne. All other data can be deleted.
On this page:
---
Formatting a CSV file for a Batch Message
The following images show how to format a CSV file correctly for use in a Batch Message...
EMIS (Web and PCS) SystmOne: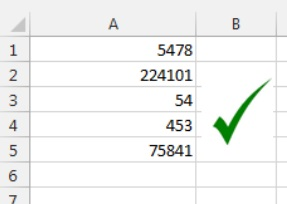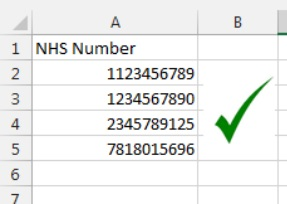 You can now save your file. Make sure that the file type is .CSV (comma delimited). You will often get a box asking if you're sure you want to save that file type; click Yes. Once you've saved your file, close Excel and if it asks if you want to save changes, click No.
---
Troubleshooting / issues uploading a CSV into a Batch Message
Occasionally you may have followed the instructions above, but Mjog still says it does not recognise the file format. A simple way to fix this is to go back into your CSV file and delete some additional columns to the right of your data. If this still doesn't work, then try copying and pasting your data into a fresh spreadsheet and re-saving. Make sure it is a CSV file.
---
EMIS and TPP SystmOne Support
If you are unsure how to create, run or manage reports in your clinical system, please contact your service providers.
| | |
| --- | --- |
| Provider | Contact Details |
| EMIS | https://www.emisnow.com/csm |
| TPP System One | https://tpp-uk.com/contact-us/ |