This article explains how to use the Desktop GP toolbar to send a Quick Message to patients.
Desktop GP provides instant one click messaging for GPs and is compatible with EMIS and TPP SystmOne.
Desktop GP provides several pre-written message templates, which help to assist with referrals to other services, or you can define your own message templates. It is also possible to include document attachments, and you have access to NHS attachments from an online library.
Patients can reply to messages sent via Desktop GP (but you can prevent this if required). Replies from patients can be viewed without leaving your clinical system.
On this page:
---
Sending a Quick Message
Navigate to a Patient Record in your Patient Appointment System, and click the Quick Message icon on the Desktop GP toolbar:

---
Message Options
Phone Number

You can change the mobile number in this field, i.e. for privacy.
You will be warned if the mobile number is shared with one or more patients.
Message Template

You can choose to write a message using a Default Template, or select a different template from the menu.
Your message to the patient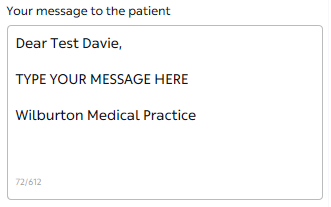 You can write your message into the text box (note the character limitation shown).
Allow Reply

You can allow / disallow patients from replying to your message.
NHS Advice


You can attach NHS Advice from an online library.
Attachments

You can upload an attachment to your message.
It is recommended to only use PDF attachments.
Delay

You can choose to select a delay for sending your message: No Delay, 15 minutes, Next working day, In 3 months, In 1 year.
Send & save

Click Send & save to send your message.