It has been brought to my attention by several PCNs running EMIS Web Clinical Services that the Consultation sometimes does NOT get written back to the patients GP Practice. Below is an example - a Consultation was successfully sent back on both 26th November and 3rd January but NOT on 31st December.

This presents an enormous Clinical Risk.
To identify Consultations that have not successfully written back I have created an Emis population report (xml attached below) that can be imported and run in your EMIS Clinical Services Hubs. It will output all Consultation send status that are No Status as below. You can see the Consultation not sent back in the image above is listed in the report below (highlighted):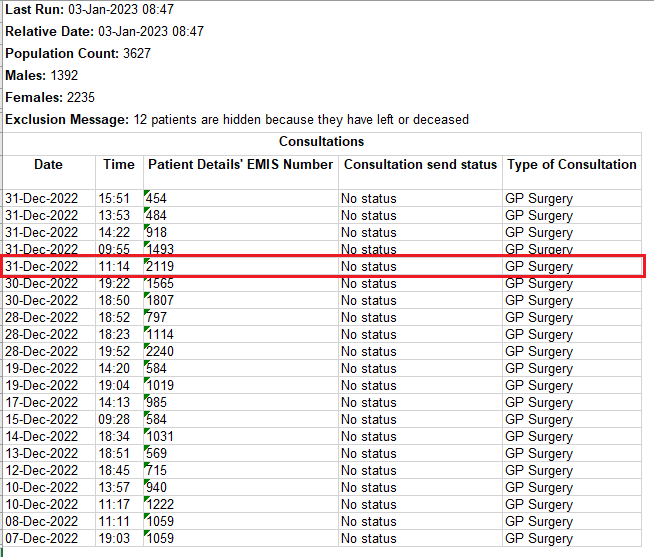 Please download, import and run this report in your EMIS Clinical Services and if you identify any Consultations that have not been sent back to the patients GP Practice (cross check a couple to ensure there is nothing showing under Status in the patients Consultations), raise a case with Emis and attach the output of the report.
Population Report Attachment
The attached report below is saved as an Excel Spreadsheet (as xml's do not work with this portal). Right click on the link below and select Save link as... - save to your local device and change the file extension from .xlsx to .xml (so it will be Consultation send status.xml) before importing into Population Reports in EMIS.